Today I'm sharing the sweet little vintage sewing chair I found at the thrift store over the weekend! It is a Singer, mid century sewing chair and I gave a whopping $2.25 for it!!! The seat lifts off so you can store things under it. I am in love...:) You can see how sad looking it was....all brown and yucky. After doing a little research, I found out that I probably could have sold it in its original condition for around $50, but I wanted to keep her for myself! What do you think of the transformation? I am still debating on the pink lace trim....I'm thinking about taking it off and sewing it to some burlap and putting a ruffle around the inside hanging down underneath the chair. I haven't decided yet though!
I also want to share a vintage tablecloth my favorite aunt gave me today! It is prefect for a project....or two in my craft room redo! Just look at it!
Just one problem though....it has a stain (old water stain maybe) in the middle of the cloth. I am wanting to try to remove it so I can use all of the cloth and not just parts of it, but I'm not sure how to remove it or if I even can. I found a couple ideas on the web, but if you have a tried and true method to share....please do!
Well, I hope you enjoyed my little before and after! I can't wait to share what I've been doing in my craft room! Hopefully it won't be too long...:) I'm almost finished....just some sewing left! I'm linking up with Gina at
The Shabby Creek Cottage
for Transformation Thursday....be sure to go check her awesomeness out! I'm also linking up with Gail at
My Repurposed Life
.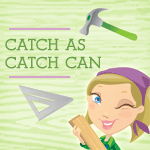 She is amazing when it comes to repurposing furniture! Hop on over and visit these ladies...:)
As always.....