Hola' everyone! Tomorrow's Friday......need I say more? It has been a long week of testing at school and I am more than ready for a break. Tomorrow night I am having my best friend Jeana, another good friend, Heather, & my sister Nancy over to celebrate Jeana's birthday! We love to just get together, eat some yummy food, talk, and catch up on what is going on in all our lives...:) I love & cherish these times with my besties! We used to do a Girl's Weekend every year but haven't done that in a couple years. I'm thinking it's time we start planning one....:) Anywho, I've been doing a little cleaning and sprucing up for my company (which I will be sharing soon), and decided to share a little before & after project.
Remember this little $3 sweetie I bought recently?
While there was nothing at all wrong with the gold finish, I just wanted a pop of color! So, I decided to paint it with Krylon's Ocean Breeze.
What do you think now?
I'm pretty pleased with it! I love the beauty of spray paint....so easy to change the look of something quickly, again & again! I'm sure it will be a different color eventually, but for now, I'm loving the aqua...:)
Short and sweet today....it's late and I'm tired! Off to bed soon, but before I go, here's a sweet little saying about friends that I added to one of my photos....enjoy!
Oh....and be sure to thank God for the friendships in your life...:)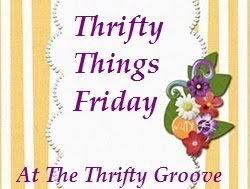 Until next time!