Hello friends and happy Saturday. I wanted to share my "new" dining room table with you all. I was fortunate to have most of the day off work Friday. It was an early release day and my principal let me use some special comp time to leave at 8:30 am. I was only there for 45 minutes...:) Anywho, I was able to run some errands that day. I started with taking the
pink chair
to Haven Hospice for the charity auction. My sister would have taken it, but she was out of work all week with the flu and bronchitis. She has been so sick...:( I'm so glad she is finally feeling a little better. After dropping the chair off, I of course had to drop by the Hospice Attic thrift. Boy and I glad I did! You may remember me mentioning that I need a dining room table. We had decided to just build our own, but haven't had time to do it. Well, I was blessed to find a brand new farmhouse table at the Attic. I spotted it leaning up against the wall....the legs had never been attached. The hardware was all still vacuum sealed and it still had the directions with it. The front cover even said farmhouse table. It was fate! There are several dings and couple scratches that will still show even after I refinish it, but I'm OK with that.
Here she is.....
The color is nice enough, but I want to sand the top down and stain it to match my
plank walls
and the trim on the bookcase. I want to paint the skirt and legs white.
This
is what I have in mind. I was so thrilled to have a table again that I had to create a fall tablescape last night!
I still want to some day build my dream table for this room, but until that time comes, this will do. Now, I need to find chairs. I have a plan for those as well. For now, we will use the chairs that go to the ice cream parlor table. They are so uncomfortable though!
I got to use several of my thrifted pieces I had not used yet, like the glasses and placemats.
I love candle light.
I also used my cute new squirrel plates. They are stacked on some fall leaf plates from the Dollar Tree a few years ago.
The owl votive was a gift from a student a couple years ago. I love my glass pumpkin. It was a Target find from a few years ago.
I love my dining room...even though we STILL haven't finished the trim and doors. We are hoping to work on it during Thanksgiving break.
It's difficult to get a good shot from this angle, but I wanted you to see that I finally hung some of my plates on either side of the china cabinet.
I forgot to mention earlier that the table was $100, but it was 25% off furniture day, so I got it for $75. Not bad for a solid wood table. The hubby said the lumber would have cost more than that to build one, not to mention the time we would put into it. We have so many projects on our list now that we can't seem to find time to do. Our next project is finishing the trim in the living and dining rooms, gutting and remodeling the master bath, and building a new screened in porch. We are going to try to get as much done as possible during our time off for the holidays.
Another errand I ran yesterday was to the eye doctor to pick up the hubby and my new glasses. I love my new frames! I don't love taking selfies though...lol!
I hope you enjoy the remainder of the weekend. I've been busy working on the ornament exchange partners. You should receive yours by tomorrow night. The sign -up is officially closed. Thanks to those who shared it. I am so looking forward to it...:)
I'm linking up with.....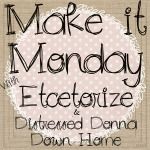 Until next time.....